The event, which marked the charity's 25th year, was attended by ERUK 2016 research grant awardees, staff, trustees, supporters, donors, fundraisers and families affected by epilepsy, and featured several speeches from people associated with the charity. The attendees also had plenty of time to mingle and chat at the evening reception afterwards whilst enjoying nibbles and drinks.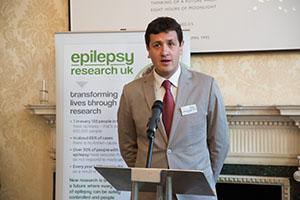 Prime Minister David Cameron, who is an ERUK Trustee, spoke briefly about the importance of charities in finding a cure for diseases like epilepsy. He has a close personal connection as his son Ivan sadly died in 2009, aged 6, after living with severe epilepsy and cerebral palsy.
The day also featured a very inspiring speech from ex-Wales rugby player and ERUK ambassador Jonathan Thomas. Jonathan, a two-time Grand Slam winner, played for the Welsh team until last year when he retired due to his epilepsy, which is speculated to be caused by multiple head traumas sustained during the sport. Jonathan talked about the debate surrounding how head injuries received during contact sports may lead to the development of epilepsy and how he wanted to raise awareness and understanding about his condition.
The day of talks was rounded off with short presentations from the ERUK 2016 research grant awardees, including Alfredo and David. Both gave excellent presentations and commented how very worthwhile it was to hear about other ERUK-funded research.