Well done to PhD students Lindsey J. Caldwell and Nick O. Davies and Becker Group for their latest publication inJournal of Neuroscience.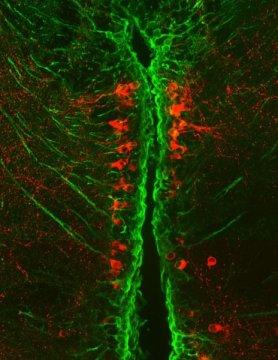 Regeneration of dopaminergic neurons in adult zebrafish depends on immune system activation and differs for distinct populations
Despite the fact that zebrafish show a high propensity to regenerate neurons in the brain, this study reveals that not all types of dopaminergic neurons are functionally regenerated after specific ablation. Hence, in the same adult vertebrate brain, mechanisms of successful and incomplete regeneration can be studied. We identify progenitor cells for dopaminergic neurons and show that activating the immune system promotes proliferation of these cells. However, in some areas of the brain this only leads to insufficient replacement of functionally important dopaminergic neurons that later disappear. Understanding the mechanisms of regeneration zebrafish may inform interventions targeting regeneration of functionally important neurons, such as dopaminergic neurons, from endogenous progenitor cells in non-regenerating mammals.
News Coverage: 
The work has been covered by a BBC Radio Scotland interview, STV news (https://stv.tv/news/east-central/1436834-zebrafish-could-be-key-to-parkinson-s-disease-treatment/

) 
BBC news (

https://www.bbc.co.uk/news/uk-scotland-edinburgh-east-fife-47827326

) and others.
Congratulations to all!
Further information
Centre for Discovery Brain Sciences