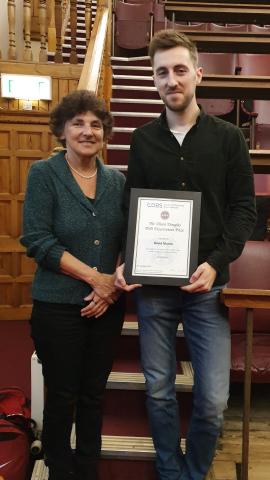 David was presented his prize by Professor Marian Joëls who was the invited speaker at the Mary Pickford lecture on Thursday 26th September.
Profs Ribchester and Spires-Jones were impressed by the quality of Dr Munro's thesis and the recognition of his PhD work in peer reviewed papers.
A quote from his PhD supervisor, Prof. Jamie Davies summed it up well.  "As well as writing an excellent thesis:  'Mechanisms of kidney vascularisation and the roles of macrophages in renal organogenesis', his 3 years of work  with me resulted in his publishing six first-author papers, five with me and one without me (correctly: he did not need any significant contribution from me for that one). One paper, in  Elife, was the subject of a short 'paper highlight' review in Nature Reviews Nephrology."
Munro DAD, Hohenstein P, Davies JA (2017) Cycles of vascular plexus formation within the nephrogenic zone of the developing mouse kidney. Sci Rep. 2017 Jun 12;7(1):3273. doi: 10.1038/s41598-017-03808-4.

Christopher G. Mills, Melanie L. Lawrence, David A. D. Munro, Mona Elhendawi, John J. Mullins, Jamie A. Davies (2017) Asymmetric BMP4 signalling improves the realism of kidney organoids, Scientific Reports, volume 7, Article number: 14824

Munro DAD, Hohenstein P, Coate TM, Davies JA (2017)  Refuting the hypothesis that semaphorin-3f/neuropilin-2 exclude blood vessels from the cap mesenchyme in the developing kidney.  Developmental Dynamics.  246(12):1047-1056. doi: 10.1002/dvdy.24592.
Munro DAD, Hughes J. (2017) The Origins and Functions of Tissue-Resident Macrophages in Kidney Development. Front Physiol. 2017 Oct 25;8:837. doi: 10.3389/fphys.2017.00837.
Munro DAD, Davies JA (2018) Perspective: Vascularizing the kidney in the embryo and organoid: questioning assumptions about renal vasculogenesis. J Am Soc Nephrol. 29(6):1593-1595. doi: 10.1681/ASN.2018020179.
Munro DAD, Wineberg Y, Vink CS, Tarnick J, Li Z, Dzierzak E, Kalisky T, Hohenstein P, Davies JA (2019) Macrophages restrict the nephrogenic field and promote endothelial connections during kidney development. Elife 2019;8:e43271. DOI: https://doi.org/10.7554/ eLife.43271 - was the topic of a Nature Reviews Nephrology highlight https://www.nature.com/articles/s41581-019-0133-8.pdf
He was also awarded the Beddington Medal for his PhD work from the British Society for Developmental Biology. 
Well done David and to all those who entered this year's competition!
Further information
FENSProfessor Marian Joëls of FENS
British Society for Developmental Biology