Role
ECAT CRUK Clinical Research Fellow
Organisation 1
Hugh Robson Building
Organisation 2
15 George Square
Organisation 3
Edinburgh, EH8 9XD
Email
kathleen.duffin@ed.ac.uk
Personal Profile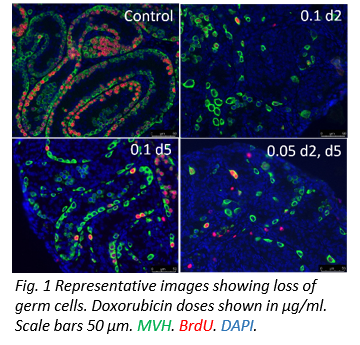 2017 – present: ECAT CRUK Clinical Research Fellow, University of Edinburgh

2012 – present: Paediatric Trainee Doctor, SE Scotland

2015 – present: Clinical Tutor Associate, University of Edinburgh

2010 – 2012: Foundation Doctor, SE Scotland

2003 – 2010: MBChB, University of Edinburgh

2006 – 2007: BMedSci (Hons), Reproductive Biology, University of Edinburgh
Research
My PhD research is focused on fertility in childhood cancer survivors. With increasing survival rates from childhood cancer comes an increasing population of adult survivors living with the long-term consequences of their treatment. Cancer treatment is known to impair fertility and reproductive function in male and female patients. For pre-pubertal females, fertility preservation options are limited to the experimental treatment of ovarian cryopreservation. For pre-pubertal males, testicular tissue can be preserved but has not yet been demonstrated to restore fertility.
As such, my lab research is focused on understanding the effects of chemotherapy treatment on the pre-pubertal testis, in order to inform protective strategies. Our lab has developed an in vitro testis culture system using a mouse model to examine the effects of chemotherapy drugs on the pre-pubertal testis. I am utilising this model to examine the effect of chemotherapy drugs given at repeated intervals and in combination, thereby mimicking the way drugs are administered in clinical practice.
Additionally, I am undertaking clinical data research to gain an understanding of the outcome of patients who have undergone ovarian and testicular cryopreservation.
Relevant Publications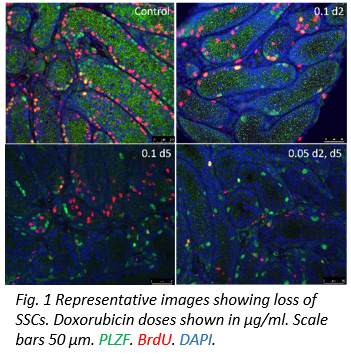 Edgar AB, 

Duffin K

, Borthwick S, Marciniak-Stepak P, Harrison S, Haywood M, Wallace AH. Intensity of long-term follow up for survivors of childhood or teenage cancer can safely be determined by therapy-based risk-stratification. 

BMJ Open

.

2013 Aug 2;3(8)
Edgar AB, Borthwick S, Duffin K, Marciniak-Stepak P, Wallace WHB. Survivors of childhood cancer lost to follow up can be re-engaged into active long-term follow-up by a postal health questionnaire intervention. European Journal of Cancer 2012 May; 48(7):1066-73
Duffin K

, Bayne RAL, Childs AJ, Collins C, Anderson RA. The forkhead transcription factor FOXL2 is expressed in somatic cells of the human ovary prior to follicle formation. Molecular Human Reproduction 2009, 15(12), pp 771-777.