Personal profile
2007 - 2020 Reader in Developmental Neurobiology
1996 - 2007 Lecturer, then Senior Lecturer, Biomedical Sciences, University of Edinburgh
1991 - 1996 Group leader at the Centre for Genome Research, Science & Engineering, University of Edinburgh
1987 - 1991 Postdoctoral Fellow at the University of California, San Francisco
1987 PhD, Molecular Biology, University of Cambridge
1983 BSc, Molecular Biology, University of Edinburgh
Research Theme
Research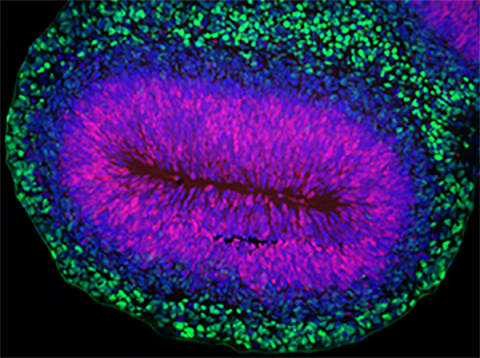 We study how the brain normally develops during embryogenesis and how neurodevelopmental disorders arise when normal development goes awry. Much of our work has concentrated on the transcription factors Foxg1, Pax6 and Gli3, in collaboration with David Price, Thomas Pratt and Thomas Theil. These transcription factors act as high level regulators and are crucial for normal development of the brain. 
We are using cerebral organoids to explore mechanisms of human brain development, and to understand how neurodevelopmental disorders such as Autism Spectrum Disorders (ASD) and FOXG1 Syndrome arise. Cerebral organoids are small, 3D cultures grown from human stem cells that closely resemble normal brain tissue. This powerful new system allows us to study development of human brain tissue in ways that have not been possible previously.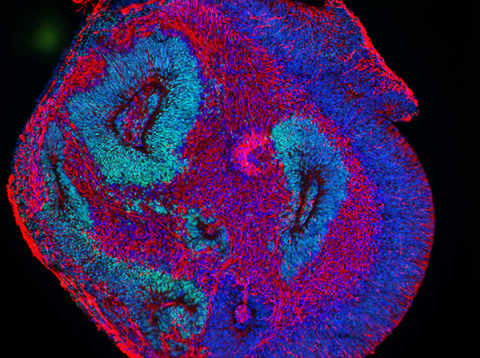 Funding
Team members
Collaborators
Publications
Ferdaos N, Lowell S, Mason JO (2022) Pax6 mutant cerebral organoids partially recapitulate phenotypes of Pax6 mutant mouse strains. PLoS One. 17(11):e0278147. doi: 10.1371/journal.pone.0278147. 
Manuel M, Tan KB, Kozic Z, Molinek M, Marcos TS, Razak MFA, Dobolyi D, Dobie R, Henderson BEP, Henderson NC, Chan WK, Daw MI, Mason JO, Price DJ. (2022) Pax6 limits the competence of developing cerebral cortical cells to respond to inductive intercellular signals. PLoS Biol. 20(9):e3001563. doi: 10.1371/journal.pbio.3001563
Chan, W.K., Fetit, R., Griffiths, R., Marshall, H., Mason, J.O. and Price, D.J. (2021) Using organoids to study human brain development and evolution. Dev Neurobiol doi: 10.1002/dneu.22819
Chan WK, Griffiths R, Price DJ, Mason J.O. (2020) Cerebral organoids as tools to identify the developmental roots of autism. Mol Autism. 11:58.
Rao C, Malaguti M, Mason J.O, Lowell S. (2020) The transcription factor E2A drives neural differentiation in pluripotent cells. Development. 147: doi: 10.1242/dev.184093.
Marshall JJ, Mason J.O. (2019) Mouse vs man: Organoid models of brain development & disease. Brain Res. 1724:146427. doi: 10.1016/j.brainres.2019.146427
Dora, N., Price, D.J. and Mason, J.O. (2019) Loss of Pax6 causes regional changes in Dll1 expression in developing cerebral cortex. Frontiers in Cellular Neuroscience 13:78 doi: 10.3389/fncel.2019.00078
Clegg, J.M., Parkin, H., Mason, J.O. and Pratt, T. (2019) Heparan sulphate sulphation by Hs2st restricts astroglial precursor somal translocation in developing mouse forebrain by a non cell autonomous mechanism J. Neurosci doi: 10.1523/JNEUROSCI.1747-17.2018.
Quintana-Urzainqui, I., Kozic, Z., Mitra, S., Tian, T., Manuel, M., Mason, J.O. and Price, D.J. (2018) Tissue-specific actions of Pax6 on proliferation-differentiation balance in the developing forebrain are Foxg1-dependent iScience, 10 171-191. 
Mi, D., Manuel, M., Huang, Y.T., Mason, J.O. and Price, D.J. (2018) Pax6 lengthens G1 phase and decreases oscillating Cdk6 levels in murine embryonic cortical progenitors Frontiers in Cellular Neuroscience 12:419 doi: 10.3389/fncel.2018.00419
Hasenpusch-Theil, K., West, S., Kelman, A., Kozic, Z., Horrocks, S., McMahon, A.P., Price, D.J., Mason, J.O. and Theil T. (2018) Gli3 controls the onset of cortical neurogenesis by regulating the radial glial cell cycle through Cdk6 expression Development 145: doi:10.1242/dev.16314
Sharp, L., Pratt, T., MacKay, G.E., Keighren, M.A., Flockhart, J.H. Chandler, E.J., Price, D.J., Mason, J.O. and West, J.D. (2017) Comparison of two related lines of tauGFP transgenic mice designed for lineage tracing. BMC Developmental Biology 17:8
Huang, Y.T. Mason, J.O. and Price, D.J. (2017) Lateral cortical Cdca7 expression levels are regulated by Pax6 and influence the production of intermediate progenitors. BMC Neuroscience 18:47
Parish, E., Mason, J.O. and Price, D.J. (2016) Expression of Barhl2 and its relationship with Pax6 expression in the forebrain of the mouse embryo BMC Neuroscience 17:76
Mason JO, Price DJ. (2016) Building brains in a dish: Prospects for growing cerebral organoids from stem cells. Neuroscience. 334:105-118.
Dorà NJ, Crookshanks AJ, Leung KK, Simpson TI, Mason JO, Price DJ, West JD. (2016) Analysis of compound heterozygotes reveals that the mouse floxed Pax6tm1Ued allele produces abnormal eye phenotypes. Transgenic Res. [in press, DOI: 10.1007/s11248-016-9962-4]
Manuel, M., Mi, D., Mason, J.O. and Price, D.J. (2015) Regulation of cerebral cortical neurogenesis by the Pax6 transcription factor Frontiers in Cellular Neuroscience 9:70.
James M. Clegg, Christopher D. Conway, Kathy M. Howe, David J. Price, John O. Mason, Jeremy E. Turnbull, M. Albert Basson, Thomas Pratt (2014) Heparan Sulfotransferases Hs6st1 and Hs2st Keep Erk in Check for Mouse Corpus Callosum Development. Jneurosci, 34(6): 2389-2401.
Mi, D., Y. T. Huang, D. A. Kleinjan, J. O. Mason and D. J. Price (2013). "Identification of Genomic Regions Regulating Pax6 Expression in Embryonic Forebrain Using YAC Reporter Transgenic Mouse Lines." Plos One 8(11).
Mi, D., Carr, C.B., Georgala, P.A., Huang Y-T., Manuel, M.N., Jeanes, E., Niisato, E., Sansom, S.N., Livesey, F.J., Theil, T., Hasenpusch-Theil, K., Simpson, T.I, Mason, J.O. and Price, D.J. (2013) Pax6 exerts regional control of cortical progenitor proliferation via direct repression of Cdk6 and hypophosphorylation of pRb Neuron 78: 269-284
Amaniti, E.M., Hasenpusch-Theil, K., Li, Z., Magnani, D., Kessaris, N., Mason, J.O. and Theil, T. (2013) Gli3 is required in Emx1+ progenitors for the development of the corpus callosum Developmental Biology 376: 113-124
Selvadurai, H. and Mason, J.O. (2012) Activation of Wnt/?-catenin signalling affects differentiation of cells arising from the cerebellar ventricular zone PLoS One 7(8): e42572 doi:10.1371/journal.pone.0042572
Pratt, T., Davey, J.W., Nowakowski, T.J., Raasumaa, C., Rawlik, K.C., McBride, D., Clinton, M., Mason, J.O. and Price, D.J. (2012) The expression and activity of beta-catenin in the thalamus and its projections to the cerebral cortex. BMC Neuroscience 13:20
Conway, C.D., Price, D.J., Pratt, T. and Mason, J.O. (2011) Analysis of axon guidance defects in heparan sulphate sulphotransferase compound mutant mice Journal of Anatomy 219: 734-742
Selvadurai, H. and Mason, J.O. (2011) Wnt/?-catenin Signalling is Active in a Highly Dynamic Pattern During Development of the Mouse Cerebellum. PLoS One 6(8): e23012. doi:10.1371/journal.pone.0023012
Fotaki, V., Price, D.J. and Mason, J.O. (2011) Wnt/β-catenin signalling is disrupted in the extratoes (Gli3Xt/Xt) mutant from early stages of forebrain development, concomitant with anterior neural plate patterning defects J. Comp. Neurol. 9: 1640-1657
Manuel, M.N., Martynoga, B.S., Molinek, M.D., Quinn, J.C., Kroemmer, C., Mason, J.O. and Price, D.J. (2011) The transcription factor Foxg1 regulates telencephalic progenitor proliferation cell autonomously, in part by controlling Pax6 expression levels Neural Development 6:9
Conway, C.D., Howe, K., Nettleton, N., Price, D.J., Mason, J.O. and Pratt, T. (2011) Heparan sulphate sugar modifications mediate the functions of Slits and other factors needed for mouse forebrain commissure development. J. Neuroscience 31: 1955-1970 Quinn, J.C., Molinek, M., Nowakowski, T.J., Mason, J.O. and Price, D.J. (2010) Novel lines of Pax6-/- embryonic stem cells exhibit reduced neurogenic capacity without loss of viability BMC Neuroscience 11:26
Manuel, M., Martynoga, B.S., Yu, T., West, J.D., Mason, J.O. and Price, D.J. (2010) The transcription factor Foxg1 regulates the competence of telencephalic cells to adopt subpallial fates in mice. Development 137: 487-97
Fotaki, V., Larralde, O., Zeng, S., McLaughlin, D., Nichols, J., Price, D.J., Theil, T. and Mason, J.O. (2010) Loss of Wnt8b has no overt effect on hippocampus development but leads to altered Wnt gene expression levels in dorsomedial telencephalon. Developmental Dynamics 239: 284-296
Information for students:
Willingness to discuss research projects with undergraduate and postgraduate students: YES - please click here