Personal profile
2014 - present: Professor of Reproductive Physiology, University of Edinburgh, 2014 to present
2002 - 2014: Reader, University of Edinburgh, 2002 to 2014
1994 - 2002: Royal Society University Research Fellow
1990 - 1994: MRC Training Fellowship
1987 - 1988: Postdoctoral Scientist, University of Berkeley at California
1986: DPhil, University of Oxford
1982: BSc (Hons) in Ecological Sciences, University of Edinburgh
Research Theme
Research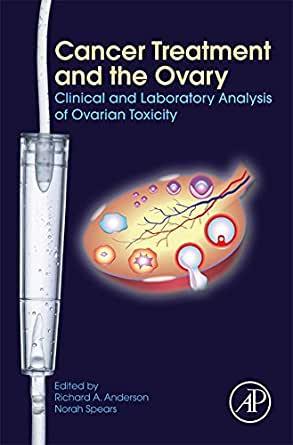 Due to the improved survival rates from many cancers, there is increasing attention on how chemotherapy treatment can adversely affect the subsequent quality of life. For young people, among the most important of these are effects on fertility, yet the primary site of action of chemotherapeutic drugs on the gonads is still unknown. This hampers the development of treatments to mitigate these adverse effects. We are investigating the direct effect of some of the drugs most commonly used to treat young patients. The first aim of our research is to determine effects of the drugs, working on ovary and testis (see book 'Cancer treatment and the ovary: Clinical and laboratory analysis of ovarian toxicity'. Eds RA Anderson and N Spears. 2015, Elsevier; ISBN 9780128015919 / 9780128016015).
Work also examines whether it is possible to protect the gonad against such damage. As part of this work, I have been involved in setting up Edinburgh Fertility Preservation, a consortium of clinicians and scientists working together to optimise fertility for children and young adults with cancer: https://www.ed.ac.uk/edinburgh-fertility-preservation
I have a separate ongoing project in collaboration with Professor Andrew Horne, with a PhD student examining why ectopic pregnancies sometimes occur, see video below:
Ectopic Pregnancy and epithelial to mesenchymal transition video with Heather Flanagan (PhD student):
Previous work examined various aspects of ovarian development, primarily investigating how ovarian follicles communicated with each other through development and how the follicular environment can affect the germ cell after fertilisation. That broader work on the ovary has led to a recent collaboration with Professor Kate Hardy, a special issue in Current Opinion in Endocrine and Metabolic Research on Regulation of Ovarian Function: https://www.sciencedirect.com/journal/current-opinion-in-endocrine-and-metabolic-research/special-issue/10BL3N32216
I am co-Editor-in-Chief of Reproduction & Fertility https://raf.bioscientifica.com/, a journal recently launched by Bioscientifica and the Society for Reproduction and Fertility.
Equality and Diversity work
I have a strong interest in equality and diversity issues, including improving the gender balance in STEM subjects at Universities. As part of that, I chair Biomedical Sciences' Academic Opportunities Committee, and spearheaded our current Athena SWAN silver award.
Funding
ECAT-CRUK
Team members
Collaborations
Key recent publications
Lopes F, Tholeti P, Adiga SK, Anderson RA, Mitchell RT, Spears N (2021) Chemotherapy induced damage to spermatogonial stem cells in prepubertal mouse in vitro impairs long-term spermatogenesis. Toxicology Reports 26;8:114-123. doi: 10.1016/j.toxrep.2020.12.023.
Flanagan H, Lin C-J, Campbell LL, Horner P, Horne AW, Spears N (2021) Ectopic Pregnancy and Epithelial to Mesenchymal Transition: is there a Link?" Reproduction 161:V11-V14. doi: 10.1530/REP-20-0542.
Tharmalingam MD, Matilionyte G, Wallace WHB, Stukenborg J, Jahnukainen K, Oliver E, Goriely A, Lane S, Guo J, Cairns B, Jorgensen A, Allen CM, Lopes F, Anderson RA, Spears N and Mitchell RT (2020). Cisplatin and carboplatin result in similar gonadotoxicity in immature human testis with implications for fertility preservation in childhood cancer. BMC Medicine  18:374. doi: 10.1186/s12916-020-01844-y.
Allen CM, Lopes F, Mitchell RT, Spears N (2020) Comparative gonadotoxicity of the chemotherapy drugs cisplatin and carboplatin on prepubertal mouse gonads. Molecular Human Reproduction 26: 129-140. doi: 10.1093/molehr/gaaa008.
Lopes F, Liu J, Morgan S, Matthews R, Nevin L, Anderson RA, Spears N (2020) Single and combined effects of cisplatin and doxorubicin on the human and mouse ovary in vitro. Reproduction 159: 193-204. doi: 10.1530/REP-19-0279.
Spears N, Lopes F, Stefansdottir A, Rossi V, De Felici M, Anderson RA, Klinger FG (2019) Ovarian damage from chemotherapy and current approaches to its protection. Human Reproduction Update (2019). 25: 673-693. doi: 10.1093/humupd/dmz027.
Allen CM, Lopes F, Mitchell RT, Spears N (2018) How does chemotherapy treatment damage the prepubertal testis? Invited review. Reproduction 156; R209–R223. doi: 10.1530/REP-18-0221.
Smart E, Lopes F, Rice S, Nagy B, Anderson RA, Mitchell RT, Spears N (2018) Chemotherapy drugs cyclophosphamide, cisplatin and doxorubicin induce germ cell loss in an in vitro model of the prepubertal testis. Scientific Reports 8(1):1773. doi: 10.1038/s41598-018-19761-9
Lopes F, Smith R, Mitchell RT, Spears N (2016) Irinotecan metabolite SN38 results in germ cell loss in the testis but not in the ovary of prepubertal mice. Mol Human Reprod; 22; 745-755. doi: 10.1093/molehr/gaw051
StefansdottirA, Johnston ZC, Powles-Glover N, Anderson RA, AdamsIR, Spears N (2016) Etoposide Damages Female Germ Cells in the Developing Ovary. BMC Cancer, 16; 482. doi 10.1186/s12885-016-2505-9.
Anderson RA, Mitchell RT, Kelsey TW, Spears N, Telfer EE, Wallace WHB (2015) Cancer treatment and fertility: strategies for fertility preservation in children and young adults. Lancet Diabetes and Endocrinology, 3; 556-567. doi: 10.1016/S2213-8587.
Morgan S, Campbell L, Allison V, Murray A, Spears N. (2015) Culture and co-culture of mouse ovaries and ovarian follicles. Journal of Visualised Experiments (JoVE), Issue 97, DOI 10.3791/52458 (video URL: http://www.jove.com/video/52458).
Davidson B, Murray AA, Elfick A, Spears N. (2013) Raman micro-spectroscopy can be used to investigate the developmental stage of the mouse oocyte.  PlosOne 8:e67972. doi: 10.1371/journal.pone.0067972.
Cambell L, Trendell J, Spears N. (2013) Identification of cells migrating from the thecal layer of ovarian follicles. Cell and Tissue Research 353; 189-194.
Information for students:
Willingness to discuss research projects with undergraduate and postgraduate students: YES - please click here