Recent advances in single-cell transcriptomics, genome-editing, imaging, behaviour assays and other techniques are driving discoveries in the zebrafish model at an unprecedented rate. We are hosting a meeting in Edinburgh to highlight conceptual progress in zebrafish development, physiology, and disease modelling through technical innovation.
Confirmed Keynote and Plenary Speakers:
Jennifer Li & Drew Robson, RoLi Lab, Harvard - Didier Stainier, MPI Bad Nauheim - Claire Wyart, ICM Group Leader & Inserm Research Director
Organisers:
Catherina Becker,

Marcus

Keatinge, Thomas Becker (Centre for Discovery Brain Sciences, Edinburgh)
Caroline Brennan (QMU London), Karuna Sampath (University of Warwick), Freek van Eeden (University of Sheffield) 
Sponsors: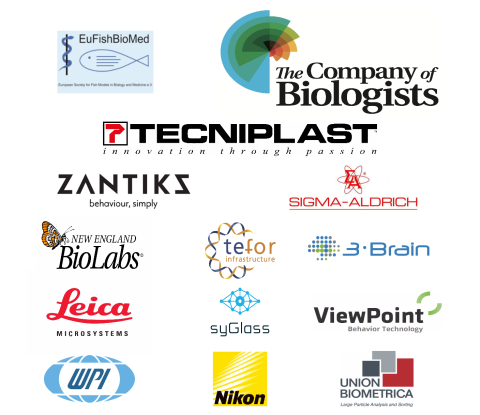 Registration:
Registration is via the University of Edinburgh ePay system: click here to register
Programme (pdf)
Abstract
Please indicate on the abstract if you would like a poster or talk; and email it to EdinFishTech2019@ed.ac.uk by Monday, 15th July 2019.
Conference Dinner 
29th August 2019 - Dynamic Earth
Crèche at the Event*
We will be providing a free crèche to the members who are attending this event. 
Creche bookings will close on 31st July 2019.
* Please note that this service will be provided by The Care Necessities and The University of Edinburgh/ EuFishBioMed e.V./ Royal College of Physicians of Edinburgh won't be liable for the children who attend.